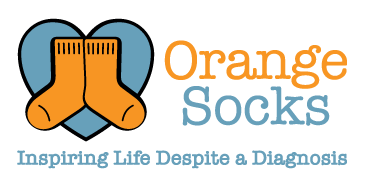 Find Hope with Orange Socks
There are others out there who know exactly how you feel.
Every four and a half minutes a child is born or diagnosed with a condition parents never dreamed would be their reality. If this is you, you're in the right place. You're not alone.
Sometimes the best therapy is knowing that someone else has been through it. Watch parent and sibling stories.
Browse resources submitted by loved ones facing similar diagnoses. Or if you have a resource, submit it online!
Matthew has three very rare abnormalities. He has been diagnosed with Goldenhar syndrome, agenesis of the corpus callosum, and an extra copy of his 78N22 chromosome. Now at 12 years old, Regan, Matthew's mom, shares her experience with Matthew so far.
Our website contains links to websites owned and operated by third parties. These links are provided for your information and convenience only and are not an endorsement by Orange Socks. Orange Socks makes no warranties or representations, express or implied about such linked websites, the third parties they are owned and operated by, the information contained on them or the suitability or quality of any of their products or services. Orange Socks accepts no liability for any damage or loss, however caused, in connection with the use of or reliance on any information, material, products or services contained on or accessed through any such linked website.